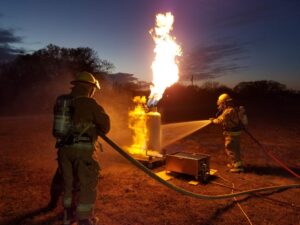 While Fireblast Global has over 130 years of combined fire service experience, our vision has always been to design and develop live fire training equipment that was flexible enough to create realistic scenarios utilizing only the highest levels of safety.
What Our Fire Training Offers
The advantage with Fireblast Global is that we offer a large variety of training simulators that create a variety of scenarios specifically tailored to produce a realistic training environment.
Hazmat Training Equipment and Facilities – This consists of mobile hazmat trainers, hazmat tankers, and hazmat rollover tankers.
Mobile Fire and Smoke Training Facilities – Our facilities for this simulation include mobile smoke trainers and fireflash series mobile fire training.
Aircraft Rescue and Firefighting Training – This includes a Fixed ARFF and a Mobile ARFF.
Gas Fired Training Props and Equipment – We use exterior gas fired props, interior gas fired equipment, and car fire training equipment.
Special Operations – Our special operations include search and rescue training facilities and forcible training equipment.
Maritime Fire Trainers – This is meant for the sea. We have training equipment for Maritime situations.
Responder Buildings – We provide fire training buildings for the optimum training value.
The Benefits of Fireblast Global
With Fireblast Global, we engineer and build your live training system for optimum training value. We are the leader in innovation and design because we continue to seek new and meaningful ways to improve our products and services. We also employ the best engineers with experience unparalleled in the industry. No other company offers the wealth of experience to make a project work on time, and on budget. The experience of the Fireblast Global staff is an added value to the quality of proven equipment that will be delivered.
We specialize in fire training, so choose us for all your training needs. Contact Fireblast Global at 1-951-277-8319.