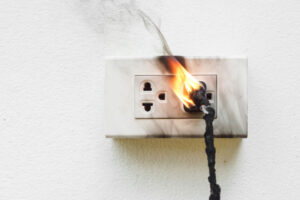 With apartment complexes and homes designed with electrical amenities more now, firefighters have to be trained for possible fires that break out. We sometimes don't realize that firefighters have to have plenty of knowledge of where fires can start. Electrical fires are common in our times, and firefighters have to be prepared in order to save lives and fight fires.
Combatting Common Electrical Fires
Electrical fires can be caused by faulty appliances, electrical wiring, electrical outlets, and breaker boxes. Which is why Fireblast Global specializes in Gas Fired Props, offering these simulators to replicate even the trickiest environments. Some common fires we replicate are Stove Fires, Bed Fires, Sofa Fires, Desk Fire, Flashovers, Attic Fires, Industrial Fires, and much more.
How Do Firefighters Train for Certain Fires?
Firefighters have to be up to date with their training when dealing with new technologies and amenities that they may not have all the knowledge with. With Fireblast Global, we have the training simulators to replicate any fire disaster. Training with one of our simulators gives firefighters proper efficiency and skills to put out a fire while saving lives. Our real-life training simulators are manufactured with the upmost safety and realism in mind, using top quality materials and innovative technologies.
The Benefits of Firefighter Training
We are dedicated to our first responders, especially during times of need. They put their lives out there to help save other lives. When we have the opportunity to provide firefighters with the best training simulators, we will. Our priorities lie in saving lives, fighting fires, and eliminating the time it takes to do those things. We understand that fires will continue to break out for as long as we live. Our job is to create solutions in fighting those difficulties.
Contact Fireblast Global at 951-277-8319 today to learn more about our fire training simulators for fighting fires.