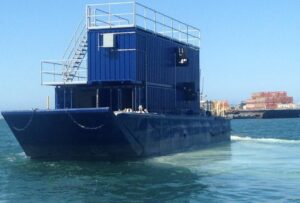 Fires out on at sea happen more often than you think and being prepared and trained properly will save lives and material assets in a fire emergency. Fires out on the sea can be very dangerous because they are unlike house fires where you can dump tons of water on it. Once firefighters get out onto the ship, they have to learn how to mitigate the problem, make sure it doesn't grow to a bigger problem while keeping the ship afloat.
At Fireblast Global, we know how to train firefighters properly and efficiently for these dangerous situations.
What We Offer in Training
Our models for Maritime Fire trainers consist of:
Traditional Barge Style Floating Trainers
Ground-Based Pre-Engineered Buildings to replicate a ship
53' Tractor Drawn Mobile Maritime Trainers.
Operators can create different scenarios with a variety of our props, such as an engine/bilge pump fire, flange fire, cable tray fires, ship hatch fires, stairways, gangways, QAWTD and Non-Burn Radiological prop.
Our simulators offer a realistic environment that will recreate the unique challenges emergency personnel are up against in tight vessel quarters. We can include exterior quick access watertight doors, marine doors, portholes, hatches, Denver windows, and ladders for interior and exterior use replicating those on a ship.
Why is Safety Important?
With Fireblast Global, safety is the number one priority for firefighters and those in danger. These maritime fire simulators have been carefully designed to offer optimum training to firefighters so they can efficiently, quickly, and properly save lives and property.
We are proud of the training we offer to firefighters. Contact Fireblast Global at 1-951-277-8319 today to get started!