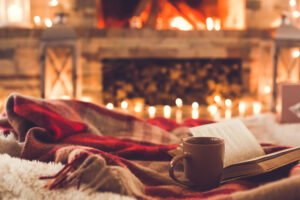 Despite the freezing temperatures, the majority of residential building fires occur during the winter months. Indeed, according to the U.S. Fire Administration, an estimated 108,200 winter residential building fires occurred each year between 2014 and 2016. These fires were responsible for 980 deaths, 3,575 injuries, and nearly $1.9 billion in property damages.
Preventing and limiting the damage caused by these deadly fires is only possible if you understand the root cause of the problem. Read on to learn more:
The Leading Cause: Cooking – 43%
Cooking fires contribute to approximately 43% of all winter residential building fires. Not only that, but the majority of fires occur between the hours of 5 and 8 pm—when most Americans are cooking their evening meals. Cooking fires are responsible for 90% of confined fires, but even more concerning, they are also responsible for 20% of nonconfined fires. In other words, while the majority of cooking fires are contained, many are not, leading to loss of property or even loss of life.
The Runner-Ups: Heating, Carelessness, Electrical – 34%
Cooking fires may be the leader in winter residential fires, but even a fire with a 10% chance of happening can still cause massive damage. The following three causes make up for over a third of winter residential fires, often developing into nonconfined fires.
Heating – 20%
Heating a home is essential to staying warm and comfortable in the winter, but it doesn't come without risks. Whether it be from a fireplace, a gas furnace, or an electric furnace, heating issues are responsible for 20% of residential winter fires. They also account for roughly 9% of nonconfined fires.
Carelessness – 7%
Carelessness is a catch-all category for accidents or mishaps around the house. Examples include leaving a candle unattended or keeping your curling iron turned on when you're not using it. They account for 15% of nonconfined fires.
Electrical Malfunctions – 7%
Finally, there are electrical malfunctions, including such things as wiring problems or short circuits. Similar to the previous category, electrical fires account for 15% of nonconfined fires.
The Remaining Causes: Appliances, Open Flames, Etc. – 23%
The remaining 23% can be attributed to less common, but still dangerous, causes. Appliance issues, open flames, or even natural disasters are all attributed to widespread residential fires.
Open Flame – 4.7%
Appliances – 3.5%
Intentional – 3.4%
Other heat – 3.3%
Smoking – 1.9%
Exposure – 1.8%
Equipment – 1.2%
Natural Causes – 0.8%
Equipment failure – 1.5%
Playing with a heat source – 0.4%
Fireblast's Turnkey Solutions to Winter Residential Building Fires
With so many potential causes, it can be hard to prevent all of them. That's why properly training firefighters is essential to limiting the damage of a winter fire. At Fireblast Global, we offer a variety of residential interior gas fire props. These props combine a high level of realism with a safe and repeatable environment. To learn more, contact us today.