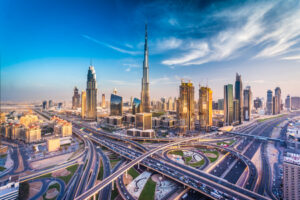 While Fireblast simulators are widely used throughout the United States, its top-of-the-line industrial fire training simulators are of interest in the Middle East and beyond – which is why you can find Fireblast Global exhibiting at the Intersec Expo in Dubai. As the biggest and most important security and safety conference in the region and very possibly the world, no venue is better.
The Oil and Gas Industry
As the biggest producer of petroleum in the world, the Middle East has an essential need for the industrial fire training simulators Fireblast offers, as do the oil refinement and transportation companies that are at the heart of the oil industry in the United States. When accidents happen, it's vital that your employees be prepared to handle whatever happens. You can visit Fireblast's exhibition at Intersec on January 19th through the 21st, at booth 3-110F, where you can learn more about their industrial fire simulators.
For example, if you are especially conscious of air and water contamination as a consequence of your training exercises, you may be interested to learn that Fireblast's simulators use clean-burning fuels such as propane. Featuring PLC computed controlled valving to regulate flow, you need never worry that the extreme conditions of the training exercise will leave you out of control.
Before the Fire
Fireblast's industrial fire training simulators can recreate any number of hazardous materials scenarios that could occur at your facility, giving your employees a variety of different scenarios to work within their training. Firstblast will work with your director of training chief to ensure that they are trained in every aspect of safety and security that will be of service to them by specifying, designing, manufacturing, and installing a training simulator.
This training will begin with the tools, appliances, and equipment used to protect your personnel and fight fires. The use of self-contained breathing apparatuses, dry chemical agents, and other safety equipment that can help to contain hazardous materials and deal with other dangers can all be covered in your training simulation.
Once your personnel have a strong understanding of how to use the tools of firefighting and hazardous materials containment, they can train in pre-emergency planning. The key to avoiding a tragedy is to be ready for anything that could happen on the refinery or tanker; the three Ps – patience, planning, and practice – will ensure that your personnel are ready for exactly that.
An understanding of the strategies and tactics that are best employed in particular situations is important to pre-planning, as well as to smart behavior in the midst of an incident. Key to this understanding is training in fire behavior; some firefighters like to talk about fire as if it is alive and has a mind of its own, and while this is not actually the case, fire does have certain behaviors that are predictable. When you work with the knowledge of what a fire is most likely to do and when, you can work to deal with that fire before it gets out of hand.
During and After the Fire
With your employees as prepared as possible prior to the fire, it is important for them to learn how to handle an actual fire in the moment. This involves training in how to conduct rescue procedures safely and effectively. Salvage and overhaul operations must be conducted where the fire did serious damage; whatever can be salvaged may yet be of use, and where an overhaul is necessary, business cannot be continued until that overhaul is carried out.
Fireblast's simulators will allow you to consistently and repeatedly train your employees with the simple push of a button. With the ability to create either large or small training simulations in less time, you can save your instructors' time, thus lowering operating costs.
Fireblast's industrial fire training simulators can provide a live fire-training environment that perfectly recreates the kind of dangers your personnel might someday face.
The safety of your employees and equipment is important to you, which is why you should employ the best possible training – and although you wouldn't want to put them into a truly dangerous situation, you want them to experience as much of the reality of a fire in their training as is possible.
Contact Fireblast Global at 1-951-277-8319 for more information on our fire training services and how we can help you fight fires the smart way.