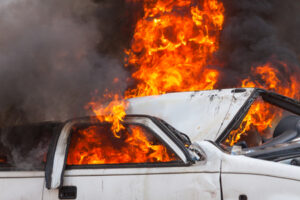 One of the most common causes of fire-related property damage is a vehicle fire. With the sheer number of flammable materials that both compose vehicles as well as are contained in vehicles, this should hardly come as a surprise. Fuel leaks from fuel lines can easily ignite, and there are certainly enough sources for ignition: electrical devices capable of short-circuiting, hot exhaust systems, and a variety of more modern amenities in cars, such as air bag detonators. While many of these fires are contained in the engine compartment by a firewall, there is always the potential for the fire to spread and do even more damage to the car. Considering how common these fires are, it is very important that your fire service be well trained in dealing with vehicle fires.
Vehicle Fire Training Realism is Paramount
Most vehicle fire training systems only provide a single, primary fire using a portable or built-in pan. This only allows the simulator to create a fully involved fire, with manual ball valves often used to send more fire into a single area as part of the simulation. However, this system does not realistically re-create a vehicle fire that is capable of spreading or extending into different compartments of the car – thus rendering the simulation incomplete, and your trainees woefully unprepared for when this happens in the field. This system also has the problem of not allowing for firefighters to extinguish one burn area and then move on to the next one. Instead, these simple vehicle fire-training systems provide all-or-nothing training scenario for firefighters, but as you well know, actual fires are rarely so simple and a fully involved fire is really more conducive to a "surround and drown" attack than a tactical rescue attack, for example.
These and other failings of the simple vehicle fire training systems seeing use today have inspired Fireblast Global to develop the DX Series vehicle fire training props training system. The DX Series delivers independently controlled burn zones, each of which has its own, independent pilot and burner. With the DX Series, instructors can provide a single fire evolution scenario such as engine, passenger area, wheel-brake, or fuel spill. Instructors can also provide a scenario wherein the fire spreads, or a scenario wherein trainees must deal with a fully involved fire. This variety of training scenarios ensures that your firefighters are adequately trained, as there is nothing they will see in the field that they haven't seen with Fireblast's training systems.
The realism of Fireblast's training is further enhanced through the bumper discharge effect that simulates an exploding bumper caused by the super heating of the struts that hold a bumper in place. This provides your firefighters with a valuable lesson: to approach the engine fire from a 45-degree angle in order to avoid having their knees and shins in the path of a discharged bumper!
Safety is Paramount
Fireblast's DX and EX Series Car Props are the only training systems that include PLC computer controls and burner management, as recommended by NFPA 1402. Our systems also include wireless controls for all fire and effects operations. A control stand with operator dead man provides an additional level of safety, one that is often (unfortunately) not found in most other fixed or portable car props.
Where other models fail to meet these standards – offering these safety and control features only when premium, "fixed" versions costing $100,000 or more are purchased – adhering to the NFPA's guidelines and recommendations is paramount to us here are Fireblast, as we recognize that the better-trained a firefighter is, the better he or she is able to not just protect and save the lives of the pubic, but to preserve their own lives as well – and that this must be done in the most realistic, yet safest, manner possible
Fires are real, they are hot, and helping to prepare your firefighters for the danger they represent is our area of expertise. The Fireblast Car Prop is safe, effective, and thanks to the propane fuel used in its operation, both environmentally friendly, inexpensive, and high performance. Let us help your fire service prepare for any and every eventuality with the DX and EX Series Car Props.
Contact Fireblast Global at 1-951-277-8319 for more information on our fire training services and how we can help you fight fires the smart way.