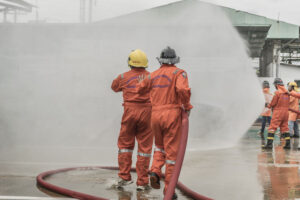 We can't harp enough on the importance of fire safety training equipment for our fire fighters and first responders. When we supply them with the proper safety training equipment and new technology, fire fighters feel safer, more prepared, and fearless when going in to save lives and stop fires. The benefit of having any type of new training, techniques, or equipment, everyone will be more confident in what they accomplish.
Why Do We Need to Keep Improving?
For us as a people, feeling safe and comfortable is something of a priority. When we improve on life, we're only bettering everything that we do. In the fire safety training industry, Fireblast Global's mission is to make sure that fire safety training equipment and new equipment is going to better prepare first responders and fire fighters to fight fires and save lives while keeping them safe.
The Benefits of Fire Safety Training Equipment
With Fireblast Global, you will be able to choose from several different fire safety training systems and equipment depending upon the purposes. We can provide you with Hazmat trainers, tankers, car trainers, maritime trainers, and much more! Our state-of-the-art equipment is meant to train your fire fighters in a real-life situation, so they can continue to better themselves in fighting fires and saving lives. With the way we manufacture our training products, we have leverage exceptional quality material and is assembles by industry experts. Our products are an investment that will last you for many years after your purchase, giving you the most value imaginable.
Our training trailers provide the realist conditions possible, including smoke generation and real heat, without putting the trainees in harm's way. We're always looking to improve the way we train and prepare ourselves for the worst situations, so it's important to have fire safety training equipment available.
If you're looking for the best fire safety equipment and training trailers, you've come to the right place. Contact Fireblast Global at 951-277-8319 today or visit us online for more information about our fire safety training equipment!