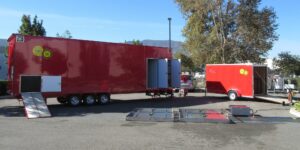 Firefighter training is extremely important for firefighters to go through. We're talking about saving lives when it comes to fighting fires, and the men and women running through collapsing structures need to build the confidence, knowledge, and problem-solving skills in order to successfully manage and put out fires and most importantly, save lives.
What is involved in a smoke trainer?
With Fireblast Global, our simulators will give your fighters and department the proper training tools needed for smoke training. It comes with a smoke generator and a distribution center that operates from a wireless pendant controller.
Our smoke maze trainer comes with three levels of interior training operations with interchangeable design abilities. The purpose of this is to train and improve a firefighter's awareness and operation in low visibility and confined space areas.
Without the skills and knowledge for this type of atmosphere, firefighters won't be efficient and confident to be successful on the job.
There is an evacuation and ventilation system with an exhaust fan and controls on the pendant controller. You have the control to regulate the smoke depending on the different exercises in the training program. This creates a real-life situation so there is consistency in training and when it comes time to fight fires.
The Benefits of Smoke Trainers
Whether you're a rookie or a veteran firefighter, this training simulator will help you fight fires in low visibility from smoke.
Builds self-confidence in air management skills
Practice working in low-visibility atmosphere
Trainer allows for multiple configurations of obstacles
Trains in a real environment for the real job
Here at Fireblast Global, we know the importance of fire training, and our fire simulators are the best in the business regarding proper training and practice for your department and crew. We encourage you to take a look at what we have to offer. Contact Fireblast Global at 951-277-8319 today!