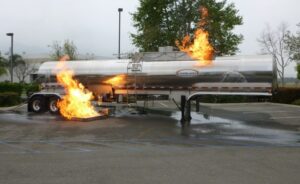 The fire service will face a number of calls throughout the year, from house fires to vehicle fires to the occasional commercial fire. Each situation calls for a particular skill set and type of training to be applied, which is why it is so important to train for each particular kind of fire separately and thoroughly. The alternative is for your firefighters to be unprepared for the challenges they face, which can lead to less successful, more costly, and even dangerous outcomes.
One type of fire that is often neglected in fire training, due to a lack of proper fire training systems, is that of the hazardous materials, including mobile tanker fires. Of all the calls that a fire service can receive, a Haz-Mat tanker fire can be one of the most dangerous, not just for the firefighters but also for the surrounding region. Indeed, the danger that a Haz-Mat tanker accident poses is also extremely costly to local cities and departments, as often such accidents cause mandatory evacuations, along with the shutting down of major interstates and freeways, thereby costing the city even more in toll fees and other economic benefits owing to traffic.
Thus, it is to the city and county's benefit to invest now in training their firefighters to quickly and efficiently deal with a Haz-Mat tanker fires, as the sooner they can put the matter to rest, the sooner the city and county can go back to business as usual, reducing the economic and social impact of the fire. Ultimately, this is why it is wisest to choose the best, most versatile, and most realistic fire training systems for your firefighters: because while it may impact the budget now to get top of the line training equipment, it will cost the government and the public far more in the future to have an under-trained fire service.
The Best Technology for the Best Results
The Fireblast Haz-Mat Tanker Trainer is specifically designed to provide your firefighters with realistic training scenarios in a safe, controllable environment so that when they inevitably face a real Haz-Mat tanker disaster, they are more than prepared to deal with it in the quickest, most cost-efficient manner possible. Our Haz-Mat Tanker Trainer is equipped with a leaking flange, tank top fire, and flammable liquids fuel spill fire, allowing the trainer to erupt into a flammable liquid and gas fire simulation, thereby recreating any hazardous material spill and fire that your firefighters may face.
The challenge for firefighters in the field will be to control the fire while containing the hazardous material on site, and our Haz-Mat Tanker Trainer recreates that experience perfectly. Simulated fuel leaks using water take training to a new level. Chlorine, gasoline, and hydrous ammonia simulations can be included, along with grounding and bonding exercisers. Using a transportable, 40-foot, DOT-compliant tanker and a Falcon burner and ignition system, no other Haz-Mat Tanker Trainer is as realistic, versatile, and high quality. Regardless of the scenarios that your firefighters will face in the field, from rupture repairs to flange fires, spill fires, and confined spaces, our trainer will leave them more than prepared. Fireblast Global also offers rollover tankers that simulate a tanker truck either in the upright or rolled configuration for even more challenging scenarios.
Training for Safety
As with any Fireblast fire training system, safety is paramount to the design and use of our Haz-Mat Tanker Trainer. While your firefighters put their lives on the line every day they are in the field, they shouldn't be at risk while engaging in fire system training courses. However, realism in their training is essential in order to provide them with the most optimal training possible if they are to engage with real fires safely and effectively.
A tank cooling system, fail-safe safety gas valves, automatic and manual shutdowns, safety pilot, flame detection and monitoring, and multiple operation control unit station all provide a variety of safety measures to ensure that your firefighters are never at risk while participating in a training exercise. You have complete control over the exercise from start to finish, allowing you to adjust the intensity and nature of the exercise, simulating the capricious nature of the flame as well as the challenge that hazardous materials in the midst of a fire poses. The whole time, the exercise can be ended at a moment's notice.
Ultimately, no city can afford to have its fire service be unprepared. Investing in your safety and protection departments today must inevitably pay for itself, as the question isn't if your city will see a disaster of this nature in the future, but merely when. Be prepared and be in control with a well-trained fire service supported by Fireblast Global's American-made fire training systems. Contact Fireblast Global at 1-951-277-8319 today.