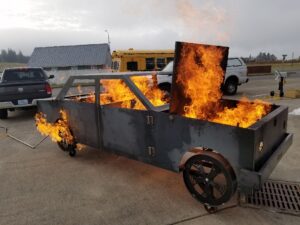 Live fire training is imperative for developing well-seasoned firefighters. Live fire training involves using fire training props, also called fire training simulators, in burn building and exterior props to teach firefighters the skills they need.
Gas-fired simulators are a valuable tool in fire training; they allow firefighting students to get more fire evolutions per hour and have less downtime in between burns. These simulators are also more environmentally friendly with the use of propane or natural gas and are designed with safety in mind.
Fireblast has many props that can simulate a large variety of fires that firefighters may encounter, including products like interior simulators, portable and fixed simulators, and car fire simulators.
Interior Fire Simulators
Fireblast's interior simulators are gas-fired with propane or natural gas and can generate a variety of indoor fire scenarios. The simulator can be used to train in a residential environment or in an industrial setting. Instructors can mimic common house fires and create realistic conditions by using props such as sofas, beds, and kitchens. This allows firefighters to train in a realistic environment. In an industrial setting, instructors can include props such as hazmat drums, storage boxes, and even a paint cabinet.
Fireblast's simulators are the best educational tools available. The props mimic real-world scenarios and allow students to practice direct and indirect fire attack, fire suppression techniques, and learn about fire behavior. These simulators are also equipped with smoke generators that provide effective training without harmful exposure.
Portable Fire Simulators
The portable props that Fireblast offers are designed to train firefighters to fight exterior fires while being able to move the training around the facility to create new evolutions. These simulators allow firefighters to gain knowledge and become familiar with the requirements needed to combat a liquid or gas fire. Firefighters learn when and how to apply foam to a liquid or gas fire in order to mitigate and control the scene.
Fixed Fire Simulator
Fixed training props allow fire departments to have a designated location for specific types of training. The fixed props are equipped with the Fireblast Quickburner™ Technology and can mimic a variety of mockups like a split flange, Christmas tree, fuel spills, and trash dumpsters.
Falcon Car Trainer
The rise in battery operated cars has led to more intense car fires with even more smoke production. Fireblast Global's Car Trainers challenge first responders with multiple objectives. With the trainer, fire departments can recreate tire, engine, and passenger compartment fires in a mid-size vehicle. The prop helps train firefighters in a realistic but controlled environment.
Fireblast is committed to creating the most realistic and safe burns so our first responders can develop skills to keep communities safe.